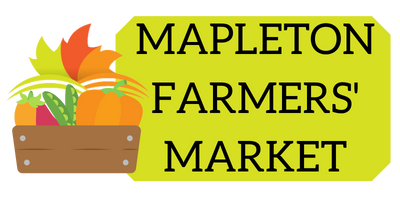 Mapleton Farmers' Market is back for the 2023 season!! 
The Market will be held on the Last Thursday of the month from May-September and will be hosted at the Drayton Fairgrounds at 49 Elm St., Drayton.
Our☀️SCHOOL'S OUT☀️ themed market is coming up and we have a Market Bucks contest for the kids this time!!! Use the link below to download and print a colouring sheet and make sure to bring it to the market next Thursday, June 29th. The first ten children to bring in their colouring sheet will receive a Market Buck to cash in at any vendor of their choice! Your child only needs to colour one of the two colouring pages.
Interested in becoming a vendor? Read our Vendor Rules and Regulations and fill out our Vendor Application them email them to ahill@mapleton.ca.
If you are a food vendor you will also need to fill out the Wellington Dufferin Guelph Farmers Market Food Vendor Application Form
2023 Vendors
---
Chilligo Creek Farm 
Fresh Produce 
https://www.facebook.com/Chilligo-Creek-Farm-312935832243111/
---
Country Lane Glass 
Glass Garden Decorations
---
Kellsons Craft Condiments 
Mustards, Ketchups, Relishes, Salsas, Marinades, & Dips 
---
Mapleton Acres 
Flowers & Bouquets 
---
Sorry Sauce 
Hot Sauce & Fresh Hot Peppers
---
Northwind Bison
Grass fed, Bison meat.
---
Family Farm
Cabbage, Cucumber, Pumpkin, Corn, Spinach, Kale
---
Part Time Vendors
---
Tullamore Lavender
Baking, Decorations, and Plants
https://www.tullamorelavender.ca/collections/all 
---
Deckert - Decorative Stones
Handmade Cement Garden Decorations
---
Mapleton's Organic Dairy
Ice cream
---
Sam's Kitchen 
Cookies, Squares, Brownies, and Muffins
---
Tia's Candy Shop
Novelty Candy, Fun Drinks, and Cool Snacks/ Treats
---
Salem View Farms
Quarter, half and full beef, half and full lamb, half and whole chicken in addition to sampler boxes and custom cuts (beef, lamb, chicken and pork)
https://www.facebook.com/salemviewfarms 
---
Poot Corners
Alpaca clothing, shoes, meat, blankets, and so much more