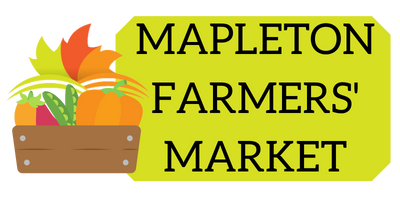 Mapleton Farmers' Market is back for the 2022 season!! 
The Market will be held on the first and third Wednesday of the month between June - September and will be hosted in the Drayton Municipal Parking lot across from the firehall again! 
Interested in becoming a vendor? Read our Vendor Rules and Regulations and fill out our Vendor Application them email them to ahill@mapleton.ca.
2022 Venders
---
Chilligo Creek Farm 
Fresh Produce 
https://www.facebook.com/Chilligo-Creek-Farm-312935832243111/
---
Country Lane Glass 
Glass Garden Decorations
---
Eby Family Honey 
Hot Honey, BBQ Sauce, Beeswax, Lip Balm, & Some Veggies
http://www.ebyfamilyhoney.com/
---
Farewell Homebaking 
Homebaking, Sewing, Flower Bouquets, & Mums 
---
Kellsons Craft Condiments 
Mustards, Ketchups, Relishes, Salsas, Marinades, & Dips 
---
Harwill Farms
Fresh Vegetables, Fruit, Maple Syrup, & Chicken
---
Holzworth Corn 
Fresh Corn
---
Mapleton Acres 
Flowers & Bouquets 
---
Sorry Sauce 
Hot Sauce & Fresh Hot Peppers
---
The Celtic Dream Shoppe 
Flavoured Shortbread, Tartan items, Celtic Bracelets, T-shirts, & Chalkboard Maps
https://thecelticdreamshoppe.ca/
Part Time Vendors
---
Brubacher's Honey 
Honey, Homebaking, Summer Sausage, & Candles
---
Messy Labs 
Home Science Kits 
https://www.facebook.com/messylabs.ca
---
Savannah Cassel
Jewelry & Crafts